">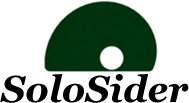 The SoloSider is a high quality tool, used to hang fiber-cement siding. It can be adjusted for different size overlaps with a simple push and twist, no screws or nuts to worry about. It will move the plank up and down in 1/16 increments without having to remove it from the hangers. It will not rip the paper or house wrap. It will not mark the siding.
For the home owner or anyone in the building or construction trades, we hope this new adjustable siding tool will be a great benefit.We think it is the only truly adjustable tool on the market.
This tool will work with 5/16 fibre cement siding and 3/8in LP Smartside and give the correct 1 in. overlap.
There is also a model for 7/16 LP Smartside siding.
We also have a model for cedar siding with a 15/16 maximum butt end.